I have a question for all you writers out there.
How do you write about things you haven't experienced?
It's the number one thing you hear about when adults say they're glad they didn't really write as teenagers; they simply hadn't experienced enough. On the other spectrum, though, the memories aren't as fresh and age really has nothing to do with the ability to churn words out. Yes, experience at writing helps; it helps a lot. However, I think a teenager who practices a lot can probably write as well as many adults.
Granted, I hope I'm a better writer when I'm twenty than I am now, but the experience I'm gaining can't hurt.
That got off track. What I'm trying to say is that sometimes, in stories, you come to a knotty situation you know nothing about. I'm not talking about magic or anything; I mean the average stuff. You can avoid it, sometimes, but what about the times you can't?
Do you guess? Do you try and imitate what you've heard? I can make things up pretty easy; magic, spells, villians, ectera. I can research drug addiction or a scrapbooking hobby. That isn't hard. The things that are difficult tend to be relations. How can you talk about a relationship you've never had?
For instance, I can pretty honestly say I haven't been in love.
Nope. That has not been me.
I don't even really believe in all the gooey stuff, if you were to ask me. I'm jaded. The only guy I ever really cared about . . . well, that ended badly. I do, however, like to read about relationships that work. Not in romance novels, but in your typical YA fiction. If there's a guy, I like the book better. Why? Well, it gives me hope that guys get better.
(Please, god, please. Lol.)
It's easy to make stuff up and pretend. How do you know when it seems real though?
It isn't rhetorical, I'm really wondering. I can guess. I can people watch. I can listen to my friends talk about guys they love, but then I tend to get cynical when the dude turns out to be a jerk two weeks later. I can write about crushes, about close guy friends, and about watching a friend do something stupid . . . but I haven't experienced it myself.
I think there's a reason why people often tell you to write what you know. There's something exciting about guessing, and pretending, but on another level, getting it wrong could be disastrous and turn your characters flat. It gives you little dolls instead of real, breathing people on your pages.
I don't want this kind of boy in my stories.
I want this one.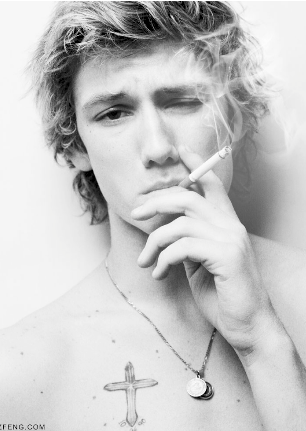 It's a picture that says twelve thousand words. T o name a few; dangerous. Beautiful. Cocky.
But you could go deeper and talk about how he was conflicted and strong and such in a story. You could make him come to life. (I have no idea about the real guy in the picture. He is pretty, though.)
Anyway, that's just one example. This wasn't really triggered by anything, I'm just been wondering. I know teenagers can write and write well. We do it all the time. I'm not posting this as some sort of hook for 'Oh, but you write so well! How could you be worried!?' I'm not. I think I do pretty well for guessing. I'm just wondering how other people do it. Even adults have to guess.
So. . .
What are your methods?