So, my dad and his friends play guitar. They get together on weekends and have jam sessions, and yesterday, they played at a pizza parlor. It's a cute little place in a town just south of Nowhere.
Like this!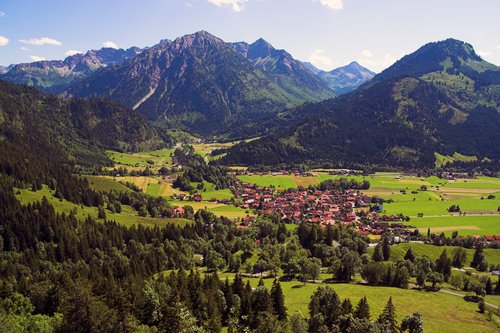 Yeah. That's totally what Missouri looks like. *
Anyway, it was a cute little place. There were booths, and little tables, and a group of little kids that seemed to belong to the owner; they were EVERYWHERE. The waitress was young and insanely frazzled--the influx of business seemed to throw her off her game. However, the people inside? Yeah, they all knew eachother. There were old ladies gabbing in the corner, and there a couple of teenage kids were in the back that seemed pretty dang comfortable. Whenever the locals walked in, they would stand for a second, stare at the newcomers, sit down, and then crane around to stare a little more.
In a weird way, it was kind of cool.
It reminded me of so many places you read about. I mean, come on--how many books have you read that center around a small town? Can you name one?
How about this one?
For those of you who haven't read Twilight or who don't recognize this, this is the town that Stephanie Meyers picked to set Bella and Edward in. It's itty bitty.
Why are small towns so popular in novels?
Is it the charm? Is it that people are enthralled by them? (Hey, I know it sounds weird to us who do inhabit bits of Nowhere, but apparently we're hot commodities to city folk.) Is it that people who have lived in small towns like reading about what reminds them of home?
I'm not sure. It's just interesting to me. I mean, people really come alive in smaller settings. That pizza parlor, for instance--people were so friendly! (Except for the poor, frazzled waitress. She wasn't too friendly. Of course, we were playing cards...So yeah...)
Even the cranky people, though, seemed to have more of personality than those in cities. I guess it's because people don't really feel the need to keep to themselves. I mean, yesterday, I was walking home from a friend's, and four different people asked if I wanted a ride.
In a city? No. That wouldn't happen. In fact, I would be scared if someone did ask. Here, it's not so abnormal.
I just find it interesting. What about you?
*For those of you not familiar with Missouri, that was a joke. Missouri country looks more like this.